Pedaling to "Schitul Lipovenesc" Hermitage
22 September 2011
No Comment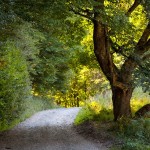 Starting in Piatra Neamt there are numerous touristic routes that can be made on a bicycle. One of these beautiful routes is the one that starts at Caprioara Bridge and continues near Tineretului Swimming pool from "Peste Vale" Entertainment Complex.
The asphalted road goes near the swimming pool and then continues to Batca Doamnei Hydroelectric from where you can admire the entire Bistrita valley, Ceahlau Mountain and Batca Domnei Hill.
From here the route continues until you'll enter a dirt road that goes through Batca Doamnei village. The scenes are wonderful. Here you'll discover traditional houses and the magic of a village that still keeps the old image in its dirt streets. When the dirt road exits the village you'll enter the forest where old oak trees will draw you attention for sure.

Schitul Lipovenesc Hermitage, Neamt County
On the forestry road that in the end reaches "Schitul Lipovenesc" Hermitage there are several planes where you can rest and admire the surrounding nature.
At one point the forestry road goes to the left and climbs until you'll reach the religious settlement also known as Bahrin Hermitage.