"Piatra Open" – international bouldering competition in Piatra Neamt
23 October 2011
No Comment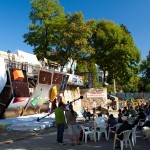 Between October 1 and 3, 2011 in Piatra Neamt took placed the first edition of the International Bouldering Competition "Piatra Open". The participants came from all over Romania and from other countries. The only rule was the minimum age of 14.
The competition was organized for women and men and started Saturday, October 1 at 11:00 in Tineretului Park from Piatra Neamt. The first event was the qualifications for women followed by the qualifications for men. The final started at 19:30 and ended around 22:30 with the awards. Together with Romanian climbers came also participants from Belgium, Austria, Ukraine and Bulgaria.
The competition continued on Sunday with a bouldering session in Sihla Mountain and on Monday with an escalade session in Cheile Bicazului. The purpose of this event is to promote bouldering and the sport in general as a way of life.

Bouldering contest, Neamt County
The international bouldering contest "Piatra Open" was organized by "Freestyler" Club in partnership with Piatra Neamt Town Hall.