The local artisan Vasile Gaman from Vanatori-Neamt commune
23 October 2011
No Comment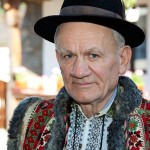 The artisan Vasile Gaman was born in 1936 in Lunca village, Vanatori-Neamt commune. He graduated from the Art and Trades School from Targu Neamt in 1954 and he specialized in wood sculpting and carpentry. Vasile Gaman dedicated his entire life to his passion: giving shape to wood and creating objects that remind us of the past life from the Romanian villages.
His dedication and passion for his work was rewarded after a 40 years career with the membership of Traditional Art Academy from Romania and "Carmen Saeculare" Cultural and Art Center.
His work can be admired in over 40 churches from all over the country where he sculpted chairs and iconostasis. The artisan is also a history passionate and he carved the gates from his house with famous historic faces like Burebista, Decebal, Traian, Stefan cel Mare and Mihai Viteazul.

Vasile Gaman museum, Neamt County
Another important aspect is his passion for folkloric art that he collected over the years. All these objects are exhibited in a museum house that he opened in 1988 and that has over 3000 items like old tools, books, manuscripts, religious icons, traditional costumes, masks, medals and coins. The objects present in the collection of Vasile Gaman illustrate the past life from Neamt County.


Vasile Gaman used his talent to create religious wood objects like chairs, iconostasis, chapels or objects used in the daily tasks in a traditional house. All his objects are decorated using religious and laic symbols.
You can find his museum in Lunca village, Vanatori-Neamt commune, Neamt County.