The National Art Exhibition Lascar Vorel – the XII edition
23 October 2011
No Comment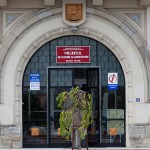 The National Art Exhibition "Lascar Vorel" is at its XII edition this year. The event is part of the Cultural and National Heritage Minister's calendar and represents an important event for artists all over Romania. The exhibition from this year will include over 400 works of art like paintings, graphics and sculptures created by artists from different counties.
The opening of the exhibition will take place Thursday, October 20 2011, starting with 18:00. The event will include an award festivity for the best works present at the exhibition. The jury is formed by Valentin Ciuca, an art critic, Nicolae Suciu, painter and Constantin Catargiu, graphic artist.
Each artist that will be nominated will receive a participation diploma at the end of the exhibition. From all the art that will be exhibit the best pieces will remain at the History Museum from Piatra Neamt until the end of the year.

Lascar Vorel exhibition 2011, Neamt County
This year's edition of the "Lascar Vorel" exhibition is supported by Neamt County Council. The organizers of the event invite you to visit the exhibition and to enjoy some pleasant moments in the company of the best art works of graphics, paintings and sculpting.