Late autumn in Piatra Neamt
21 November 2011
No Comment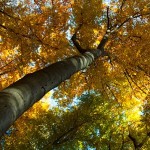 It's late November and autumn is soon to be forgotten. The tree branches lose the beautifully colored leaves in favor of the ground. A walk through this autumn scenery will be a feast for the eyes and the photo camera.
We recommend you to take a walk in Piatra Neamt, on the road that goes to "Peste Vale" Entertainment Complex. The magic of autumn changed nature. Yellow and rusty-red leaves fall from trees and create a thick carpet on the road. A gentle breeze caresses your face and the sun rays become more obvious through the empty branches.
The area is truly special and once you leave the town behind you'll have the impression that you are in a different world. The houses along this road are mostly old and a suit-sour smell of small apples and grapes come from the yards mixed with the smell of smoke rising from the chimneys.


Autumn is the season of color. Now when this perfect photographic season comes to an end and the cold days of winter are soon to come there is still time for some walks through the thick carpet of leaves. So, grab your photo camera, dress up to resist the cold and take a walk on this magical road from Piatra Neamt.