The archeological site exhibition from Cetatuia – Costisa
21 November 2011
No Comment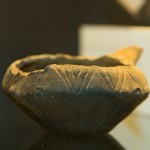 Between November 2011 and March 2012 at the History and Archeology museum from Piatra Neamt will be open the exhibition "The archeological site Cetatuia – Costisa". The exhibition is organized by Neamt County Museum Complex in collaboration with "Vasile Parvan" Archeological Institute from Bucharest and with the participation of "Iulia Antonescu" Museum Complex from bacau.
The archeological site from Costisa, Neamt County dates from the interwar period when Constatnin Matasa and Radu Vulpe made the first excavations in the area. The moments marked by excavations performed in 1959, 1960 and 1962 by Alexandru Vulpe stand at the base of Costisa culture that refers to different types of ceramics from the middle age of the bronze era.

Costisa exhibition 2011, Neamt County
The research from Cetatuia – Costisa is almost complete. The recent excavations helped to determine the chronology of the site and also made some last important discoveries like the bone cylinder, the anthropomorphic statue or the two offering vessels.


The pieces presented in the exhibition retrace the chronology of the site and the principal categories of objects found there: ceramics, tools, weapons, stone and bronze ornaments. Come visit this exhibition and experience a glimpse of the past.