"Stelutele Craciunului" Show in Piatra Neamt
23 December 2011
No Comment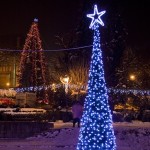 Sunday, December 18 2011 will take place in Piatra Neamt at 13:00, in the festivities room from "Victor Brauner" Art High School, the show "Stelutele Craciunului" (Christmas's Stars). The show is organized with the occasion of winter holidays and presents customs and winter traditions from Neamt County.
This event is created by the folkloric canto class from "Carmen Saeculare" Cultural and Art Center. The singers will be children of 14 years prepared by professor Giorgiana Axinte-Serban: Lorena Carmen Acatrinei, Daiana Vinca, Radu Lupastean, Andrei Nastase, Bradiţa Carjici, Anda Grigoriţă, Patricia Blaj, Miruna Boeru, Mara Apetrei, Ioana Baciu, Ştefania Andone, Miruna Negură, Ioana Şoimaru and Beatrice Ciobanu.
The children prepared for this moment a sum of songs specific to this time of year: Christmas carols and New Year's Eve songs and folkloric songs. The organizers of this event are "Carmen Saeculare" Cultural and Art Center together with Neamt County Council. The entrance is free.