"Filmul de Piatra" Festival – Piatra Neamt the third edition
31 December 2011
No Comment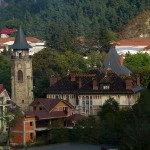 Between January 5 and 8 2012 in Piatra Neamt will take place the film festival "Filmul de Piatra" the third edition. This edition will take place in the festivities room of Neamt County Council. "Filmul de Piatra" wants to discover the best shorts created exclusively in Romania and Moldavia Republic.
In the competition there are 55 videos to different sections like Fiction, Animation, Experimental, Videoclip, Documentary or Extreme. At the event there will also be concerts performed by Partizan, URMA, Electric Fence, multimedia parties, a meeting with Draga Olteanu Matei and a presentation of shorts from other related film festivals like Next, Anim'est or ShortsUP.
At this edition the jury will be formed by Ana Ularu, Andi Vasluianu, Irina Margareta Nistor, Aurelian Nica, Virgiliu Mărgineanu and Ticu Lăcătușu. the awards are offered by Roman Cultural Institute for The Best fiction film (1000 Euros), The Best Documentary (700 Euros), The Best Animation Film (700 Euros), The Best Video clip (700 Euros), The Best Experimental film (700 Euros).  On the Extreme category the award is represented by a video/photo camera GoPro Hero2 offered by mxshop.ro.
The festival is organized at the initiative of Andrei Dascalescu with the support of Piatra Neamt Town Hall.