Winter has come in Piatra Neamt
22 December 2011
No Comment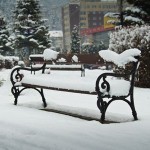 With just a few days before Christmas Piatra Neamt was transformed in a fairytale land by the fallen snow. Snowflakes were coming down to earth and in just a few hours formed a thick white carpet that covered the streets, sidewalks and trees. Of course that this was the delight of children that started a snow fight everywhere they could.
The shinny snow covered the tree branches with star garlands and everything seems to be covered in fluffy sugar figurines. Everything stands still while the snow keeps falling down. The last preparations for Christmas night and also for the New Year's Eve are on the last 100 m: the stores are full with people buying presents and making the last preparations for the holidays.

Piatra-Neamt the first snow 2011, Neamt County
In the evening the town is beautifully lit. The winter scenery that was created by the first snow completes the beauty of this picture. This is a time of joy, of shinny smiles and colorful lights. It's also time to come to Piatra Neamt and enjoy the magic moments of Christmas.