Winter images on the route Durau – Fantanele – Toaca – Dochia
22 December 2011
No Comment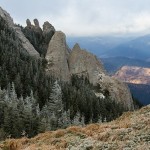 This touristic route from Ceahlau Mountain is accessible on every season but during winter tourists must be properly equipped in order to handle some portions of the trail that are more difficult to make during this season. If you're going to take this trail to reach the top of Ceahlau Mountain you'll make a journey where you'll experience the feeling of infinite freedom and you'll admire the impressive proportions of the mountain.
The route starts in Durau Resort from where the trail goes into the forest. the first stopping point is Fantenele Chalet from where you can admire the rocky look of Ceahlau Mountain, with Toaca Peak and Panaghia stone guarding the top.
From Fantanele Chalet the trail becomes steeper and from time to time the forest will open with some great panoramas toward Durau Resort. During winter the scenery is great and the tall pine trees are covered in snow.

Ceahlau Fantanele winter 2011, Neamt County
The trail will take you to the places called "La morminte", "Curmatura Arsitei" and "Caciula Dorobantului" from where you'll have the chance of some beautiful panoramas over Izvorul Muntelui Lake and the surrounding mountains. From "Caciula Dorobantului" Stone the trail goes into the forest and soon you'll have a great view toward Panaghia Stone.
After that the trail will go around Toaca Peak,, will reach the Weather Station and in the end will stop to Dochia Chalet. The scenery during wither is incredible. The climbing is more difficult than in other moments of the year but once you reached the top the reward is worth the effort.