Winter images in Bicajel Gorges
22 January 2012
No Comment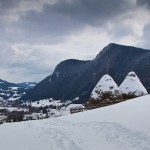 We invite all winter season lovers to come to Neamt County and enjoy a perfect walk in Bicaz Gorges (Cheile Bicazului) area where nature provides spectacular images to please the eye and the soul. The mountain routes from these parts are a little bit difficult to make during winter season but sure it's worth the effort.
A truly spectacular route is the one that starts in the asphalted road that goes through Bicaz Gorges at the point called "Podul Ungurilor" (Hungarians Bridge), located between "Gatul Iadului" (Hell's Neck) and "Pridvorul Iadului" (Hell's Porch). The route is marked with a yellow line on a white background. The trail goes on the right side of Bicajel creek.
The environment from Bicajel Gorges is wild and beautiful with swirling waters hidden under the ice. Once you'll reach the south east side of "Piatra Surducului" Stone you'll have the chance of admiring the entire beauty of Bicajel Gorges from a specially designed panoramic spot.

Cheile Bicajelului during winter, Neamt County
Soon the trail will exit the forest and will continue through Surduc Plane until it reaches the old Surduc Road that will guide your footsteps to Bicajel village. Once you reach this place a whole different world will lay before your eyes. A world with small wood house of over 100 years old and mountain roads carved into the forest.


The trail then crosses Bicajel Creek and reaches the plane called Saua Tifra from where you'll follow the marking yellow triangle. The trail will go near a massive stone wall called "Piatra Maria" (Maria Stone).
So if you love nature walks and snow come visit Bicaz Gorges and enjoy the spectacular environments that hide beyond the massive stone walls that guard the asphalted road.