Come skiing on Cozla Ski Slope from Piatra Neamt
18 February 2012
No Comment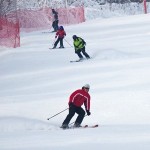 The snow from the last days made it possible for ski lovers to start their fun on Cozla Ski Slope from Piatra Neamt. We invite tourists to come and have a great day in the snow and although winter was a little late this year now there are perfect conditions for skiing and ice-skating.
The weather will continue to favorite the winter sports so that tourists that love winter sports could have a great time on the mountain. Cozla Ski Slope from Piatra Neamt has all the necessary facilities to offer excellent skiing conditions. Tourists that come to Piatra Neamt have multiple accommodation facilities and good prices.
As a new thing, starting with this year there is a new access card that can accumulate points: each point has a value of 2 RON and each ride with Telegondola or the chair-lift is paid using these points. Both grownups and children will need 4 points for a ride in Telegondola and 3 points for the chair-lift.

Cozla ski slope 2012, Neamt County