Winter on the shore of Lake Batca Doamnei from Piatra Neamt
18 February 2012
No Comment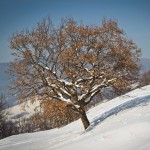 Lake Batca Doamnei represents a touristic attraction from Piatra Neamt because of the beautiful scenery that surrounds the area. Because of its big surface the lake offers perfect wintering conditions for a large number of bird species.
From the shore of the lake tourists can admire on one side the town of Piatra Neamt and on the other side Ceahlau Massif in all his beauty. Near the lake there is Batca Doamnei Hill where there are the ruins of the Dacian Fortress.
The birds that come to spend the winter here grow in numbers every year. You can see wild ducks but the most beautiful birds that can be admired are with no doubt the white and black swans. The swans are a real touristic attraction and many tourists come to take a photo with these gracious birds.


The white swans spend their entire day on the lake. A walk to Lake Batca Doamnei represents a good opportunity for tourists to enjoy some relaxing moments!