Piatra Neamt at the 2012 Romanian Touristic Fair from Bucharest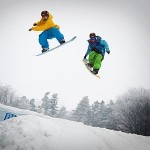 "Piatra Neamt a beautiful place!" is the slogan that represents Piatra Neamt at the XXVII edition of the Romanian Touristic Fair that will take place between March 15 and 18, 2012 at the Romexpo building from Bucharest.
The promotion campaign of Piatra Neamt was launched at the last autumn edition of the fair and includes the main touristic attractions from and near Piatra Neamt as well the entertainment facilities for nature and winter sports lovers. On two days circuits tourists can visit Piatra Neamt, the museums and churches from the town and the entertainment facilities from Cozla Mountain.
The campaign is centered on family entertainment that can offer great ways for spending free time during summer and winter. The first day tourists can visit Cucuteni Museum, The Royal Court, the Art Museum, the History Museum, the Tower of Stefan cel Mare, St Joan Church and the Ethnography Museum. The second day you can enjoy a nature walk on Cozla Mountain and a ride with Telegondola for a spectacular sunset view on top of the town. Here, on top of Cozla Mountain, during winter you can practice skiing or snowboarding on a professional or amateur ski slope.
At this year's edition of the touristic fair visitors will be informed on all these touristic attractions and will be invited to visit Piatra Neamt and enjoy the modern accommodation facilities as well.