Hiking in the Fairy's Garden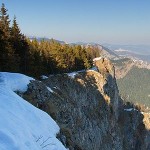 Now that the harsh winter has passed the spring wind starts to make its appearance more and more and the weather also becomes warmer. These days you're starting to think more on nature walks or maybe hiking on a mountain trail.
One of the many hikes that you can do in this beginning of spring is a trip to the Fairy's Garden, located in Bicaz Gorge. To reach this point you'll have to climb on the route marked with a blue triangle that starts in Lacu Rosu Resort and goes to the panoramic point on top of Suhardul Mic Peak. From this peak there are 4 trails that all go to the left, to the place called the Fairy's Garden.
The huge stone wall that delimitates the garden is in the shape of an arch and offers a beautiful view to Bicaz Gorge and the surrounding mountains. You can see The Altar's Stone, Munticelu Ridge and Ceahlau Mountain.

Route to Fairys Garden, Neamt County