The local artisan Ciocarlan Elena from Stefan cel Mare commune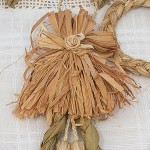 Ciocarlan Elena from Stefan cel Mare commune, Serbesti village is one of the local artisans that have a small workshop inside her own house. For almost 6 years she learned this craft of weaving with hemp, creating some interesting and beautiful objects.
Although this craft was practiced more by the women from the village, in time few kept the details and the secrets of creating these beautiful objects. Using the hemp rope to create interesting nodes is an art.
The artisan Ciocarlan Elena used old books to learn the basis of this craft. With patience and hard work she used hundreds of meters of hemp rope to create wonderful art objects.
From 2011 she is also a member of the Local Artisans from Moldova Region. The objects she creates are used as table covers, interior decorations, flower baskets and more.
Location of the workshop: Stefan cel Mare commune, Serbesti village
Phone: 00 40 749 811 589
e-mail: [email protected]



Local artisan Elena Ciocarlan, Neamt County