The local artisan Ciocarlan Vasile from Stefan cel Mare commune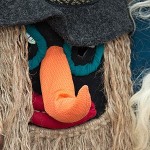 In Stefan cel Mare commune from Neamt County, the local artisan Ciocarlan Vasile practices the crafts of masks creation. He uses his ingenuity to create a variety of masks that criticize the society. The crafts of traditional masks is an old tradition. These objects are mainly used in customs connected to the winter celebrations.
Ciocarlan Vasile creates masks that have a variety of forms. These creations are special because of their expressivity: the masks express greed, drunk, avarice, sloth. The masks represent old men and women, bears, goat head, ram and other animals.
The masks are handmade in the workshop of the artisan using animal fur and skin, carved wood, bark tree, buttons, colored cardboard, horse hair, animal horns, marbles, bees, mirrors and practically any object that can be used to decorate the masks.
Location of the workshop: Stefan cel Mare commune, Serbesti village, Neamt County
Phone: 00 40 749 811 589
e-mail: [email protected]



Local artisan Vasile Ciocarlan, Neamt County