The scientific reservation "Polita cu Crini"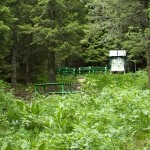 Ceahlau National Park is located at about 10 km west from Bicaz and in this wonderful area you can find the Scientific Reservation "Polita cu Crini". This place can be reached on the route Lutu Rosu that starts at Izvorul Muntelui Chalet. The location is a scientific reservation from 1941 and here you can see Larch trees of over 30 m high and 90 cm in diameter.
As all the other places in Ceahlau this one has its own legends but the most well known is the story of a monk that used this remote place as his home. On a rocky ledge he built a small shack and in front of it he planted few lilies. When some shepherds from the area met him they were told to plant lilies in front of every house or new church and that is why the place is called "Polita cu Crini" (The ledge with lilies) and it's also the reason for which the houses from the area have lilies in front of them.
Ceahlau National Park is one of the few place in the Carpathians where you can find unaltered nature areas.



Polita cu Crini area – Ceahlau, Neamt County