Religious art collections in Neamt County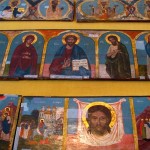 Neamt Monastery museum – The museum displays cult objects made out of precious metal, embroideries, fabrics, wood sculptures all made by the monks from the monastery or that were received as gifts over time from different rules. All these objects contain important historical information about our past and our traditions. Because of its wealth, Neamt Monastery was a target of many attacks. Despite the odds, the monastery survived and remained an important center of medieval culture that keeps in its museum an important part of our National Cultural Heritage.
The Religious Collection from Agapia Monastery, Neamt County – The religious museum from Agapia Monastery was built in 1927 and is the first religious museum that gathers not only religious objects but also weaves, wooden sculptures and ornaments from different areas of Romania. The exhibition is organized in 4 big rooms and 2 halls and the objects are thematically organized.The religious collection from Agapia Monastery has a great religious and historical value and along with the paintings made by Nicolae Grigorescu inside the church of the monastery offers a good reason to visit this monastery from Neamt County.

Religious art collections in Neamt County, Neamt County
The Art and Religious Collection from Varatec Monastery, Neamt County – The Religious Collection from Varatec Monastery hosts some of the oldest wood painted icons, from XV century that pictures St Nicolae or Archangels Mihail and Gavril brought from Rasca Monastery – Falticeni. From XVI century there is an icon with St Maria with Jesus, brought from Valeni, painted on wood in the byzantine style. You can also see a series of small icons from XVII century and the icon "Maica Domnului Dolorosa" ("Mother of God Dolorosa") painted by Eftimie. From Topolita Hermitage there some icons with Jesus and St Maria painted by ieromonahul Tiufan (ieromonah is a religious title that refers to a monk that is also a priest) in 1697.