Summer sunrise on Ceahlau Mountain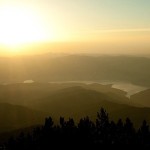 Ceahlau Mountain stands out among the surrounding mountains because of its unmistakable shape. This is the most interesting mountain area from the central part of the Eastern Carpathians. Izvorul Muntelui Lake that surrounds the mountain at the east and north together with Durau Resort contributes to the impressive image of Ceahlau Massif.
The mountain is accessible in any time of the year and depending on the season offers different images. Summer attracts the highest number of tourists on the mountain and nothing compares to a sunrise on top of Ceahlau. Tourists can accommodate at Dochia Chalet or at the monastery from the top of the mountain.
At dawn beautiful, interesting and inexplicable lights play over the mountain and that is the reason for which the mountain is known as a place of legends and mysteries. The sun rising seen from Ceahlau Mountain is a unique moment that will stick with you forever.

Summer sunrise on Ceahlau Mountain, Neamt County
Ceahlau offers to tourist deep fresh forests, alpine planes, steep trails, interesting rock formations, beautiful flowers, picturesque creeks, Duruitoarea waterfall and so many other touristic attractions.
Tourists that love the beauty of nature will certainly be attracted to this mountain and will return year after year to see the sunrise from the top of Ceahlau Mountain, the mountain of legends.