Adventure and suspense at "Tare ca Piatra" Festival 2012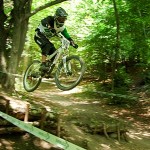 Between July 21 and 22 2012 took placed in Piatra Neamt the VII edition of the Festival "Tare ca Piatra", the only event of this kind dedicated to extreme sports from Moldavia region, Romania. This edition was organized by Ileana Foundation in partnership with the Sportive Association Shack, together with BURN and Radio Guerilla with the support of Piatra Neamt Town Hall.
At Tineretului Swimming Pool from Piatra Neamt and on Cozla Mountain took placed the competition of skateboard, streetball and downhill. The contest was full of adrenaline and surprises.
At this competition participated 44 contestants at the under 16 category. They participated in the skate park and on the basketball court. On Cozla Mountain were the qualifications for the downhill competition on a medium difficulty route.
Saturday evening was the time for a party at Tineretului Swimming Pool from Piatra Neamt where the head of the headline was held by Suie Paparude and Gojira followed by local bands like Umbra, Sideways, MCB and Keeble. The finals and the awards took placed on Sunday.

Tare ca Piatra 2012, Neamt County