Pedaling between Almas and Horaita Monasteries on the dirt road
16 August 2012
No Comment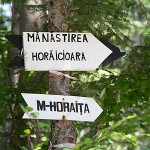 A summer trip with the bicycle on the dirt roads from the forests from Neamt County can be a real stress reliever. The route from this article starts in Piatra Neamt on the road that goes to Targu Neamt. At some point you'll make a left toward Almas Monastery.
At 4 km after this intersection you'll reach Almas Monastery where you'll park the car and prepare to start your ride with the bike. Almas Monastery is built at the edge of the village and it's surrounded by green hills. The church dates from the XVII century and is a stone building in the shape of a cross.
The dirt road starts right in front of the monastery and runs almost in a straight line with gentle curves and not that steep portions. The trees form a beautiful tunnel. After 8 km the road splits in two: to your left there is Horaicioara Hermitage and down you'll reach Horaita Monastery. From this intersection there are 2 km of descent until you'll reach Horaita Monastery.
The church from Horaita Monastery is known for its interesting architecture with 8 towers. The church also incorporates Russian architectural influences. The interior painting is truly special and is made in a reddish mood.

Pedaling from Almas to Horaita, Neamt County
After a short stop at the monastery you'll begin pedaling back to the starting point. The route has a medium difficulty and it will take you about 3 hours to make it.