Pedaling from Izvorul Muntelui to Durau
16 August 2012
No Comment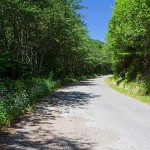 In the hot weather of the summer we recommend for you a bike route through the refreshing breeze of Ceahlau Mountain. A perfect place for a long bike tour is the road that goes from Izvorul Muntelui to Durau Resort. The route is circular and has a total length of 40 km with a medium difficulty that alternates descents with steep portions of the road.
The starting point is Izvorul Muntelui, right at the entrance in Ceahlau National Park. The route starts with a medium climb that will end at the place called "Chica Baicului". On this first section you'll see some beautiful images of Ceahlau Mountain. The rest of the road alternates the portions of descending with those of climbing.
After 20 km of pedaling you'll reach Durau Resort where you can rest in front of Durau Monastery. This church was built in XVII century and painted later by Nicolae Tonitza and his apprentices.

Pedaling from Izvorul Muntelui to Durau, Neamt County
The returning road starts with a 7 km climb. The last few km of the route will only descent and will let you enjoy the cool breeze and the beautiful sceneries that Ceahlau Mountain has to offer.