Pilgrimage with the occasion of Varatec and Bistrita Monasteries patron
16 August 2012
No Comment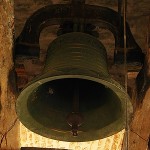 Wednesday August 15 2012 the Orthodox Church celebrates the Passing of St Mary Mother of Jesus. In this religious day in Neamt County there are two important monasteries that celebrate their patron: Varatec and Bistrita Monasteries.
Varatec Monastery celebrates its patron on August 15 and 16. Pilgrims from all over the country are expected to come at this manifestation. With this occasion The Mitropolit of Moldavia and Bucovian, Teofan will participate at the religious service. The religious service will begin Tuesday August 14 at 14:00 with a religious service directed toward the religious icon of the Passing of St Marry Mother of Jesus. Then, Teofan will hold the service from 18:00. Religious services will also be held in the days of 15 and 16 of August to celebrate this important day for Orthodox.
Bistrita Monastery was built by Petru I Musat and ruler Alexandru cel Bun in 1402. This is the second patron of this monastery that will be celebrated on August 15. Monks and nuns from both monasteries expect that a large number of pilgrims to arrive for the religious services.