Traditions in the folkloric creation from Neamt County
16 August 2012
No Comment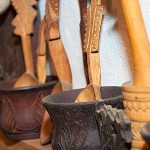 Creations of the local artisans from these days continue to maintain the old traditions alive as a link between past and present. Finding the new ways and leaving the old ones behind was a process where traditions were the starting point and also the inspiration.
Local artisans that work in wood added new decorations to the traditional objects they were making. This is the way in which the high wooden gates appeared with floral decorations, shepherd clubs, staffs traditionally decorated, wooden masks and furniture pieces.
Fabrics are mostly created by women that use traditional motives and colors to create handmade masterpieces like: curtains, carpets or rugs.
Other local artisans started to use natural fur in creating traditional clothing pieces. They work by following old patterns and also old ways of doing things.

Traditions in the folkloric creation from Neamt County, Neamt County
All these local artisans contribute through their objects to the preservation of local traditions and customs.