Hikes and relaxation in natural reservations from Neamt County
26 September 2012
No Comment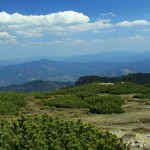 In Neamt County nature has created in time some of its best masterpieces: spectacular sceneries form the natural parks from this area. The entire area is perfect to spend a short relaxing vacation doing hikes and relaxing on mountain routes.
Ceahlau National Park hosts over 1100 species of flowers and 90 species of birds and animals and touristic routes that take you through some of the most interesting places in Ceahlau. Cheile Bicazului – Hasmas National Park offers to tourists unique environments and natural beauties like Cheile Sugaului Reservation, Lapos Gorge, Munticelu Cave or Bicajel Gorge.
Vanatori Natural Park is famous for its bison reservation and also the natural reservations nearby. Also near the park there are some of the most interesting monasteries in the area: Agapia, Varatec, Secu, Sihastria and Sihla.
The lakes Batca Doamnei, Vaduri and Pangarati are protected by law as unique natural places. Cuejdel Lake is the biggest natural dam lake from Romania and it's one of the most important natural reservations of the country.
We invite you to visit Neamt County to spend some relaxing moments on mountain routes.

Hiking and relaxing in natural parks from Neamt County, Neamt County