The wood working art in Neamt County
26 September 2012
No Comment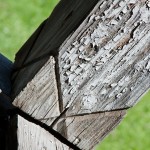 Starting with the XX century the art of wood working became very important in Neamt County and this lead to the development of several areas in the county where wood working was the main activity. This is the way in which Neamt County became well known for the art pieces made of wood.
Grumazesti area is well known for wood sculpting in hard oak wood. The artisans from this area were making gates, doors, windows, furniture pieces and elements used in the Orthodox churches. Another area famous for its wood working techniques is Vanatori Neamt where the artisans were creating mainly wood pieces used at the daily jobs around the house.
The artisans from Tolici-Petricani area were famous for their wood spoons and vessels. Tarpesti area is well known for its art objects hand made from wood.
Of course that there are other areas also in Neamt County well known for the artisans that were creating true art piece in wood like Ceahlau, Grinties, Handgu, Borca and Poiana Teiului. These days traces of this sacred art can be seen in the ethnographic museums from Neamt County or in the villages.

The Wood art in Neamt County, Neamt County