Autumn at Cuejdel Lake
24 October 2012
No Comment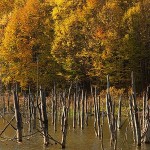 Cuejdel Lake is the biggest natural dam lake of Romania. The origin of this lake stands in a violent landslide from the left side of the valley. The lake is located in Stanisoara Mountain at 25 km from Piatra Neamt, in Garcina Commune. The lake has slowly become a touristic attraction visited by many people.
Located in the silence of the pine trees, in a wild scenery, Cuejdel Lake offers to tourists that come here during autumn a true spectacle of light and color. As a tourist you can take a hike around the lake on the dirt road that swings on the shore. Everything is in a continuous transformation under the rusty coat of autumn that completes the dark scenery of drowned tree logs.
Nature managed to create a beautiful place once again: the thick layer of dead leaves that covers the floor of the forest at every step, the sun rays shinning into the lake and the beautiful clearing in the forest create a magical place where you can relax and enjoy a pleasant day.

Autumn at Cuejdel Lake 2012, Neamt County