Weaving a craft preserved and promoted in Neamt County
24 October 2012
No Comment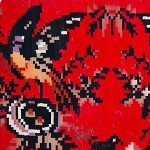 Weaving is one of the oldest of crafts in Romania and is still practiced even today in some areas from Neamt County. The women from this area were very careful to the objects that "dressed" the interior of the traditional house. These weaved objects represented the legacy of each family, the social status and were also a proof of the craft of the housekeeper.
Creating these weaves was a traditional task for women during winter. In time this craft produced a wide variety of weaved objects that were beautifully decorated with bright colors and geometrical patterns.
Among the most used decorative motives we encounter the tree of life, the symbol of the sun, bird flocks or stars. On the weaves the majority of colors used were black and red. The results of this craft were carpets, wall covers, thin fabrics and so on.
Today, in Neamt County this craft is still practiced by the local artisans and some old traditional women from villages of the county. These art pieces can be seen in the ethnographic museums from the area or with the occasion of traditional fairs.

The craft of weaving in Neamt County, Neamt County