Autumn in Ceahlau Mountain
22 November 2012
No Comment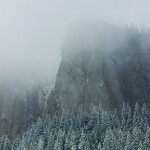 Ceahlau Mountain never stops to surprise tourists no matter how many times you visit it. Each autumn the mountain displays a wonderful palette of colors that enchant the eye and the soul.
We decided to climb Ceahlau Mountain and to enjoy the last days of autumn. The road passes near Antonie Hermitage from Stanile Plane that we reached it by car. From here we took our photo cameras and walked to the top. I can't imagine something more beautiful than an autumn walk through this mountain.
From Stanile Plain the trail goes to the north and enters the forest. The climb is easy to make and in about half an hour you'll reach the place called "La Palarie" from where you'll have a great view over the stone walls of Stanile, Ocolasul Mare Peak and the surrounding mountains.
We decided to wait and admire the sunset at the place called "La Palarie" that is the perfect spot during this time of the year. The trees beautifully colored and the first snowflakes created a magical moment.

Late autumn on Ceahlau Mountain, Neamt County