"Trei Caldari" Rock from Cozla Mountain in Piatra Neamt
22 November 2012
No Comment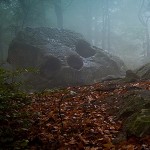 The deciduous forests are extremely beautiful during autumn when the leaves have such a variety of colors. For those that love outdoor walks this season is perfect for such an activity. On Cozla Mountain from Piatra Neamt there is a touristic route that goes up to the rock called "Trei caldari" old of over 20000 years and located at an altitude of 679 m.
The route starts at the arriving station of the Telegondola. The trail goes through the forest and is recently marked. There are only few easy slopes to climb and at some point you'll also have a wonderful opening toward the entire Bistrita Valley and Ceahlau Mountain.
The walk through the forest will last for about one hour of easy walking. The signature of the rock are the three holes that makes the rock look like a skull. The trail is accessible every time of the year and is a great way to relax and lose some stress during a quite weekend afternoon.

Autumn on Cozla Mountain 2012, Neamt County