Fun time at the ice-skating park and on the ski slope from Piatra Neamt
18 December 2012
No Comment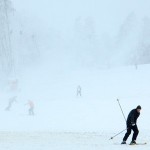 The snow that came this year in Neamt County right from the start of December made it possible the opening of the ice skating ring and the ski slope from Piatra Neamt to all those that love winter sports.
During this time of the year the ski slope from Piatra Neamt is the main attraction point for tourists that come to this location. The facilities offered are well organized and here, on the slope you can also get skiing lessons for you or your children, no matter the age.
The ice skating ring is located in "Peste Vale" entertainment complex and wait for tourists day and night. This is the ideal destinations for teenagers and young families with children. The impressive atmosphere and the ice are elements that will ensure a quality time.
Tourists that come to Piatra Neamt during this time of the year are invited to expirment winter sports on the ski slope and the ice skating ring.



Winter fun in Piatra Neamt , Neamt County