Neamt County at the Romanian Touristic Fair
18 December 2012
No Comment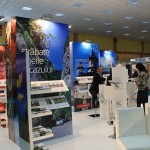 Between November 15 and 18 2012 Neamt County Council participated at the XXVIII edition of the Romanian Touristic Fair. The event took place at Romexpo building from Bucharest where the stand of Neamt County was accommodated on a 120 square meters surface. The Romanian Touristic Fair is the biggest event of this kind from Romania where tourists can come and choose from a wide variety of touristic offers.
The participation of Neamt County to the touristic fair was possible because of the project "Promoting campaign of the tourism from Neamt County through participations at national fairs and exhibitions". At this autumn edition the presentation materials were made during four projects "Promoting the religious tourism", "Promoting natural areas from Neamt County", "Art and traditions in Neamt County" and "Museum collections in Neamt County".
The promoting materials were represented by albums, touristic maps, brochures and dvds. Visitors of the stand of Neamt County received numerous promoting materials. The Romanian Touristic Fair was organized at Romexpo building by the Chamber of Commerce and Industry of Romania, ANAT, FPTR, ANTREC and OPTBR.

Romanian touristic fair 2012, Neamt County