Barnadu a mountain village from Neamt County
17 January 2013
No Comment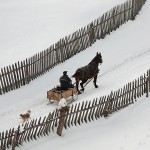 Barnadu village is an isolated community that is located behind the massive stone walls from Bicaz Gorge. The road that goes through Bicaz Gorge is filled with curves and twists that reveal some environments of rare beauty. The affluent of Bicaz Creek create secondary gorges like Lapos, Bicajel or Sugau. On the routes that cross these gorges you can reach one of the most beautiful mountain villages from Neamt County, Barnadu Village.
The most well known route to access this place is the dirt road that goes from Bicaz Gorge and upt to the village, on top of the mountain. The villagers are used to hike on a shorter trail through the woods that starts in Sugau Gorge and it's accessible only on foot.

Barnadu winter 2013, Neamt County
Barnadu is a beautiful mountain village with hard-working people that live here for generations: you'll see old shepherds that are true masters of the mountains that spend few months of the year in the wild with their sheep. During winter everything is white and the pine tree forests are dressed in the white coat of snow.


No matter the season this place is absolutely fabulous and a real treat for the eye and soul.