Pilgrimage at Horaicioara Monastery
17 January 2013
No Comment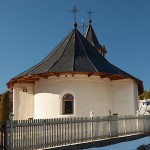 Horaicioara Monastery is located at an altitude of 900 m in a picturesque natural environment, near Horaita Monastery. From 2007, Horaicioara Hermitage became a Monastery that has these days 3 monks that attend the daily tasks.
The monastery is in the mountain, away from the world and can be reached only by foot. In this blessed place pilgrims can enjoy the peace and solitude needed.
The monastery is known for the religious icon of Saint Mary and for the spring that comes from a stone, located at 50 m from the church.
For this water, around the moment when Orthodox Christians celebrate the Healing Spring, many pilgrims come to this monastery in search of forgiveness and peace.

Horaicioara Monastery jan 2013, Neamt County