The National Festival of Customs and Traditions "Steaua sus Rasare" 2012
8 January 2013
No Comment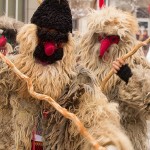 At the end of 2012 in Piatra Neamt took placed a new edition of the National Festival of Customs and Traditons "Steaua sus Rasare". The event was organized by "Carmen Saeculare" Cultural and Art Center from Piatra Neamt and Neamt County Council.
On the streets of the town visitors were able to see the parade of traditional costumes from more than 20 communes in Neamt County. The evolution of the bands took placed on a stage on top of "Curtea Domneasca" from Piatra Neamt.

"Steaua sus rasare" Festival dec 2012, Neamt County
At the parade took part traditional bands from all over Neamt County: The Goat from Bahna, the Arnauti Band from Baltatesti, "Izvoarele Borcutului" Traditional Band from Borca, "Capra Alba" from Damuc, the Goat from Farcasa, the Bears Band from Garcina, the Bears Band from Girov, the traditional band "Ion Creanga", "Mostenitorii din Oglinzi" from Oglizin-Raucesti, "Miorita" Band from Piatra Soimului, "Datina strabuna" Band from Piatra Soimului, the Bears Band from Stefan cel Mare, "Sumanarii" from Trifesti, "Arnautii" from Varatec, the band "Dor vanatorean" from Vanatori-Neamt, "Sezatoarea" band from Vanatori-Neamt.


Over time people involved in maintaining and keeping the traditions in Neamt County were invited to take part at this festival and to transmit the specific winter holidays message to others.