Winter in Piatra Neamt – the town also called "The Pearl of Moldavia"
17 January 2013
No Comment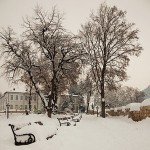 If you haven't been to Moldavia region yet we can recommend a visit to Piatra Neamt, a small town that impresses through the beauty of the natural environment. This is the perfect place for those that want to enjoy the surrounding nature and to visit Neamt County.
Also known as The Pearl of Moldavia because of its beauty, Piatra Neamt offers during winter numerous ways to spend the time. You can opt in for a ride with Telegondola, skiing on the ski slope from Cozla Mountain, go ice skating, visit the museums and memorial house from the town or enjoy the underground theater and themed parties. The hotels and pensions from the area offer excellent accommodation facilities where traditional food represents a true attraction.

Piatra Neamt winter jan 2013, Neamt County
The Pearl of Moldavia is surrounded by the mountains Pietricica, Cozla, Carloman and Cernegura. The most important cultural attractions of the town is represented by the royal court of Stefan cel Mare, "Curtea Domneasca" where you can visit the church and the bell tower. This is also the place where there are three museums: Cucuteni Culture, Art and Ethnography.
We invite you to visit Piatra Neamt during the winter season and enjoy the natural environment or the museums from the area.