Monasteries from Neamt County – places full of history and prayers
26 February 2013
No Comment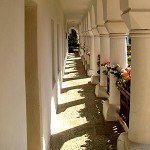 In Neamt County monasteries and hermitages have been, in their six hundred years of existence, moral standards and religious examples. Here, in these religious settlements, religion is not the only practice: art and culture are also at high praises and the actual buildings that form the monasteries are true architectural heritage buildings full of history.
The monasteries are all located in place of rare natural beauty and are living testimonials of the people from these parts. The beauty of nature that surrounds Neamt County is completed by the pilgrims that come to visit these monasteries from all over Romania. Prayers never stop in these places and the feeling of peace that you get when you enter one of these monasteries is overwhelming.


Among the valuables religious monuments and religious art, that attract year after year more tourists we can talk about monasteries like Varatec, Agapia, Sihla, Sihastria, Secu, Neamt, Bistrita, Pangarati, Horaita, Nechit, Tazlau and Razboieni and hermitages like Agapia Veche, Icoana Noua, Daniil Sihastru or Pocrov. Neamt Monastery and Bistrita Monastery are the oldest from Neamt County, Pangarati Monastery is unique with its interesting architecture, Agapia Monastery is remarkable because of the interior paintings made by Nicolae Grigorescu and Sihla Monastery for st Teodora that lived in a cave near the monastery.

Neamt monasteries places of traditions and history, Neamt County
These are art, historic and religious settlements: all at once. We invite you to visit them and to witness a style of life different from the daily things that we are used to.