Outdoor walk through Bicaz Gorges
26 February 2013
No Comment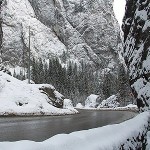 Bicaz Gorges is a true local attraction for tourists all over Romania and from other countries as well. Here there are place waiting to be discovered behind the massive stone walls.
An outdoor walk on the road that goes through Bicaz Gorges is a delight for nature lovers. The road twists itself through Bicazul Ardelean village and ends at the entrance in Lacul Rosu resort. On the side of the road you'll see impressive stones like "Piatra Altarului" (The Altar Stone) – 1120 m, "Piatra Pintesilor" – 847 m, "Piatra Surducului", "Piatra Arsitei" and few others.

Bicaz Gorges, Neamt County
The narrow valley with scattered small waterfalls, isolated rocks, small caves and rocky walls form these picturesque places that impress the tourists with its massive proportions. Although you might have the impression that once you visited this place you know it, the reality will prove the opposite. No matter the time, nature never stops to amaze us with its charm. During winter, interesting and wonderful ice embroideries cover the stones. The view is captivating and the trees covered in snow, together with the quick mountain springs form a beautiful sight on the side of the road.
A trip to this place will represent the perfect occasion to enjoy the natural beauty of this place and to relax from the daily tasks.