Easter – time of the pilgrims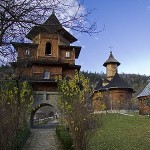 The celebration of Easter very important for Romanians and the entire family participates. On March 18 started the preparation for this holyday. Monasteries from Neamt County are places where Orthodox believers come during this time just like in a spiritual journey. Here, traditions are kept alive … here is the place where spirituality blends with the picturesque of the area. Around the celebration of Easter the entire life of the church evolves.
The religious preparation for this holyday is not easy as a symbol of all the passions of Christ. Monks don't eat with days and spend their time in prayers. Through this abstinence from eating meat we cleanse ourselves. Hundreds of pilgrims visit the monasteries from Neamt County during this time of year.


Through the beauty of these places, Neamt County invites tourists to visit these religious and historic monuments, memorial houses or museums. At the end of this religious journey we'll celebrate Easter together … the resurrection of Christ.

2013 Easter pilgrimages, Neamt County