The Monastery from Ceahlau Mountain – a place loved by pilgrims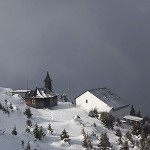 The Monastery "Schimbarea la fata" from the op of Ceahlau Mountain was built in 1993 through the contribution of believers that wanted a religious settlement on top of this holly mountain. Ceahlau is considered to be the sacred mountain of Romania where many monks lived over time. Every Sunday and on religious holydays the small church from the top of the mountain becomes overcrowded.
From the window of the building where the pilgrims are accommodated you can see the beautiful stone walls and Durau resort. During sunset the stones like Piatra Ciobanului (Shepherd's Stone) become red as a sign that another day is ending. The religious day begins with the sunrise that starts to illuminate the church. The place where the monastery is located impresses the pilgrims through its natural raw beauty.


The three monks that live here welcome you gladly and offer you food and accommodation on top of the mountain. For centuries many monks lived on Ceahlau Mountain and this is just a smalltribute to their lives and prayers.

Ceahlau Monastery, Neamt County