"Lada cu zestre" Festival at the end of the VIII edition 2013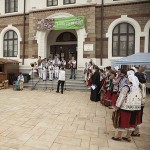 Sunday, May 26 2013 ended the Folkloric Art Festival "Lada cu zestre" with an award winning gala during which every artisan received a diploma for their participation. Also the artisan Cecilia Haisan received the "Neculai Popa" award for her religious icons pictures.
The official opening of the festival was Friday, May 24 2013 in "Curtea Domneasca" Plaza when the organizers thanked the participants from all over the country for being there. Neamt County Council handled excellence awards to the artisans Maria and Iulian Mihalachi from Baltatesti and Nicoleta and Laurentiu Pietraru from Horezu, Valcea. Few other diplomas were given from the Association of Artisans from Moldavia to artisans Ruslan Scutelnic from Chisinau and Vasile Ciocarlan from Stefan cel Mare commune. The band from Negulesti village, Piatra Soimului ended the festivities with a folkloric program.

"Lada cu zestre" Festival 2013, Neamt County
Saturday, May 25 2013 took placed the Colloquy "The wood civilization" moderated by Florentina Buzenschi from the Ethnography Museum from Piatra Neamt. At this event participated Feodosia Rotaru from "Iulian Antonesc" Museum Complex Bacau, Daniela Calistru from Pascani, Roxana Diaconu from Targu Neamt Ethnography Museum, Marcel Lutic, president of the Artisans Association from Moldavia, Iulian Bucur from Bacau, Dorinel Ichim from Bacau, Eva Giosanu from Iasi and Ana Barca from Bucharest.

"Lada cu zestre" Colloquy 2013, Neamt County
During the colloquy was launched the book "Old wood churches from Neamt County" by Elena Florescu and Mariana Sabados.


The VIII edition of the festival was a success. The event united artisans from all over Romania that brought to Piatra Neamt wonderful art objects created in traditional ways.