Neamt County villages promoted at Brasov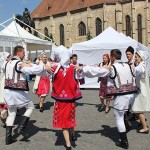 Between May 11 and 13 2012 Neamt County was present at the Romanian Rural Tourism Fair from Piata Sfatului Plaza in Brasov. The event was held under the title of "The Day of the Romanian village" and was at its second edition.
At this event Neamt County Council participated with two stands that were placed in Piata Sfatului Plaza where the touristic product on Neamt County was presented. The main elements that were promoted were traditions, customs and the religious tourism. The occasion was used to present and distribute lots of brochures and promotional materials.
Neamt County Council was present at this event together with "Floricica de la munte" band from "Carmen Saeculare" Cultural and Art center.The two stands of Neamt County were represented by two local artisans, Costi Lungu from Humulesti and Iulian Balan from Baltatesti.