Conference "Ceahlau – nature, history and tourism"
14 August 2013
No Comment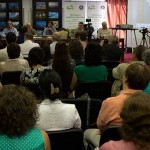 On August 5 2013 took place in Durau resort at the conference room from Bistrita Hotel the Conference "Ceahlau – nature, history and tourism". The event took place during the Festival of Ceahlau Mountain (August 3 – 6 2013). The conference was divided in two parts: "Nature and Tourism" and "History, Mith and Tourism". The event was moderated by Catalin Gavrilescu, director of Ceahlau Mountain Park. Special guest of the day was Dan Munteanu from the Protecting Nature Monuments Commission and member of the Romanian Academy.
At the first section were presented the following themes: "Conservation of biodiversity inside Ceahlau National Park" by Nela Miauta and Roxana Savina, "Aspects of the biodiversity of Ceahlau National Park" by Iordache Ion and Adrian Oprea, "Particularities and diversity of the species of orchids on Ceahlau Mountain" by Tatiana Onisei and Manuela Rascol, "Medicinal plants on Ceahlau Mountain" by Elvira Gille, "Bio-manipulation of a lake-type ecosystem – Bicaz Lake" by Ionel Miron and Liviu Miron, "Basic photography rules" by Iulian Sandulache, "Ceahlau Mountain – Changes in utilizing the surrounding land" by Alexandra Teleuca, "Evaluation of the genetically modified plants" by Mihaela Cristian Ichim, "Tourism and society – a Canadian experience" by Gabriela Marcoci, "The Role of local traditions and cultural values in development of tourism" by Silviu Costache and Camelia Teodorescu.

Ceahlau Mountain conference 2013
He second section of the conference presented the following themes: "Romanian mythology in Neamt Mountains" by Daniel Dieaconu, "Ceahlau Mountain in the works of Asachi" by Constantin Tomsa, "Ceahlau Mountain in the creation of Iulia Halaucescu" by Eugen Mircea, "Travelers on Ceahlau Mountain" by Emil Pedemonte Juncanaru, "Memories from the 60s about Ceahlau Mountain" by Catalin Petre Rang, "Ceahlau Mountain – the only mountain with a religious celebration" by Lucian Strochi, "Ceahlau Mountain – cradle of our ancestors" by Dumitru Grumazescu and Valentin Panzariu, "Cnejilor palace – religious and historic analysis" by Fabian Andrei.