Exhibitions during the Days of Ceahlau Mountain 2013
14 August 2013
No Comment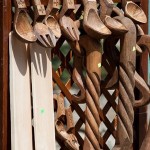 The folkloric art exhibition
Between August 3 and 6 2013 took place in Durau resort a folkloric art exhibition, located in front of Durau Monastery, where local artisans from Neamt County exhibited their works.
Among the artisans that participated at this event there are: Ciocarlan Vasile with a beautiful traditional masks collection, Ciocarlan Elena that creates traditional objects of wool, Vasile Neamtu with his wood handmade furniture pieces.
Ionela Lungu, a local artisan from Humulesti participated with some figurines that remind us of the world of writer Ion Creanga. Costi Lungu exhibited traditional masks and shepherd's clubs and dudanu Vasile came with his collection of traditional fur caps.

Ceahlau Mountain Days exhibitions 2013
These artisans were united under an exhibition that was organized with the occasion of Ceahlau Mountain Days in Durau resort.
The photography and old postcards "Ceahlau"
On August 5 2013 took placed at Bistrita Hotel from Durau a conference with the main theme based on Ceahlau Mountain, during which were presented two small exhibitions of photography and old postcards or photos with Ceahlau Mountain.