Neamt County a place of painted monasteries
24 September 2013
No Comment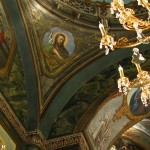 Neamt County is, without doubt, a place of some of the most beautiful religious settlements in Romania. From monuments of Gothic architecture to the Byzantine style, the religious settlements from Neamt County are known for its unique beauty. We invite you to discover three monasteries that are famous for its interior painting.
Agapia Monastery was built in the XVII century with an interior painting made by Nicolae Grigorescu between 1858 and 1861. Although he was only 20 years old when he started to paint the interior of the church, Grigorescu manages to create an extraordinary work that combines the Byzantine style with elements of the Romanian popular art and the Neo-classic style.
Durau Monastery is an old religious settlement, located at the foot of Ceahlau Mountain. The interior painting of the church was made by the great painter Nicolae Tonitza between 1935 and 1937 together with his students. Under his guidance the interior is painted in a Romanian style with saints that look like simple people reaching for the sky.


Horaita Monastery is located in a plane surrounded by Stanisoarei Mountains. The church has 8 towers, which is unusual for the local architecture. The number 8 signifies Eternity. The painting of the church was made in 1993 by Mihai Chiuaru and his apprentices. The painting was made in a Neo Byzantine style with elongated saints silhouettes that are orientated toward the sky.