The exhibition "The Art of Restoration" from Piatra Neamt 2013
22 September 2013
No Comment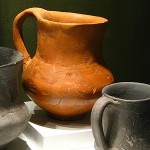 Between September 20 and November 11 2013 will take place at the History and Archeology Museum from Piatra Neamt the temporary exhibition "The Art of Restoration". During this exhibition visitors have the chance of admiring over 40 pieces of ceramics brought back to life by restoration teams.
Through the tridimensional objects, images and texts the purpose of this event is to present to the public the complex process of restoring these objects to their original beauty. The objects are from Bodesti-Fumusica, Poduri-Dealul Ghindaru, Targu Ocna-Podei and Piatra Neamt – Darmanesti.

Art of restoration exhibition 2013
The restoration of these objects is a noble work that requires attention and imagination. Some of these objects were restored because it were found in the ground and time and dirt damaged them or because through time the material degraded.
This temporary exhibition can be visited at the History and Archeology Museum from Piatra Neamt until November 10 2013. The visiting hours are from Tuesday to Sunday from 10:00 to 18:00 in September and from 09:00 to 17:00 in October and November.