The results of Hard Enduro Competition HEPN Piatra Neamt 2013
22 September 2013
No Comment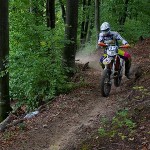 The HEPN 2013 Competition was a true adventure with spectaculars tracks specially designed. In the four days of the event 80 riders, both professionals and amateurs of this sport took the start of the competition on the trails of the forest surrounding Piatra Neamt.
The contest was a success and in the last day the riders had to endure heavy rain on the top of Cozla Mountain where a route with boulders and tree pieces tested the riders to their maximum.
The HEPN 2013 Cup was won by Graham Jarvis. The Pro class was won by Martin Volny followed by Gary Daniels, Hanus Rastislav and Zsolt Varga. The Expert class had an interesting duel between father and son but eventually the experience won over age and the first place went to Zdenek Cyprian followed by David Cyprian, Emanuel Rogojan, Norbert Jozsa and Radu Sardarescu.

Hard Enduro Piatra Neamt 2013 Cozla Mountain
The Hobby class was won by Vladimir Dascalu from Zen World Extreme Club followed by Florin Ivasc, Attila Ilyes, Mihai Brandus and Stefan Popescu.
At the Veterans class the first five positions went to Marian Saceanu, Ionut Ceasar, Laurentiu Dascalu and Abbas Hatami. The girls fight was won by Iulia Conciu at only 14 years of age and followed by Andreea Goga.