Autumn walk on the route Piatra Neamt – "Trei Caldari" Rock
21 October 2013
No Comment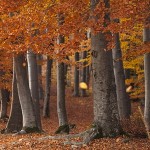 Autumn in the forest from Cozla Mountain offers an impressive and colorful show with yellow and rusty leaves that create a carpet just like nature would prepare for a big party. Every step is in the company of leaves and the magic of the forest. If you are visiting Piatra Neamt during this time of the year we recommend a walk through this forest until you reach "Trei Caldari" Rock.
The route Piatra Neamt – "Trei Caldari" Rock is easy to make and you also have few panoramic points over the town of Piatra Neamt. You can start this route in few different ways. You can go by foot from Piatra Neamt and you'll have to start at the Zoo Garden or at the base of the ski slope. In both ways you'll have to follow the road car until you reach Telegondola station from the top o Cozla Mountain. You can also arrive at the top of the mountain by using Telegondola. From here you'll follow the trail that will take you to "Trei Caldari" Rock.

Late autumn on Cozla Mountain 2013
A sunny autumn day is a perfect opportunity to go on an easy hike like this through the forest on Cozla Mountain. From the panoramic points you see Piatra Neamt and also Batca Doamnei Lake and Ceahlau Mountain.