Neamt County at EuropaNova Festival from Brussels 2013
21 October 2013
No Comment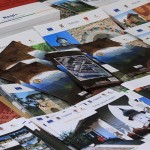 Between September 26 and 30 2013 took place the first edition of EuropaNova Festival dedicated to languages, cultures and spirituality from central, east and Balkan Europe. The edition from this year was dedicated to Romanian language and Neamt County Council was invited to participate at this event by Tracialand private group for public affairs. Neamt County Council was the only public authority present at the event because Neamt County is a touristic location where there are all types of attractions: touristic, traditional and historic.
The purpose of this participation to the first edition of EuropaNova Festival was to improve the touristic potential of the county, to promote the existing values: folkloric art, traditions, gastronomy, the small producers of meat and milk as well the touristic attractions that can be visited. During the event on September 28 2013 at EuropaNova Romanian library from Brussels was also launched TraciaLand online platform for businesses that want to promote their services at international level.

Neamt County Council at Brussels 2013
Neamt County Council was present with a traditional art exhibition, traditional food products and promotional materials. At the event was also open the Touristic Information center for Romania and Moldova.
The event from Brussels was described in the media through online platforms, written, radio and tv. Televisions and publications like TVR, Radio Cultural, Radio Romania, RFI, Fan de Flanders, Tour and Taxis, Ansa, Hotnews.ro, Capital, Agerpres, Newskeeper, Ziare live, All Biz talked about this event, ensuring a wide media coverage.